Product Description
Product Description
| | |
| --- | --- |
| System Advantages: | Product Advantages: |
| -Better Performance  | -Sleek internal surface |
| -Higher Sustainability  | -Low pressure loss for the arc bending |
| -More Efficient  | -Full bore design pipe fitting |
| -More Flexible Access  | -Safe connection with bulge loop and staple bolt |
| -Better Energy Efficiency    | -Spatial active sealing technology |
|   | -Gooseneck type quick connection mode |
1. Complete Reliability
Removable and reusable components, perfect for your factory environment
Fast installation of shunt device and branch pipeline, convenient adjustment of production line
Rich interfaces and accessories, suitable for any system
All components are nonflammable
2. Better Corrosion Resistance than 304 Stainless Steel
Anti-corrosion Internal Surface Treatment of Aluminum Alloy Pipe
Alkali and acid corrosion resistance
Internal surface always clean, no pressure loss of the pipe network system
3. Easy Operation
Pipelines and connectors can be installed immediately without additional treatment — no pre construction preparation is required
Fast assembly, no welding, gluing or stranding required – time saving
Easy assembley- no need for training
Light weight, easy for cutting pipes — easier to work on site
Directly use — the system can be tested and used immediately
4. Energy Saving
Consistently high quality interior surfaces – clean air
Low friction of inner surface — high flow performance
Precise pipe diameter – optimized sealing
Automatic filling type large contact surface sealing system ,no leakage
5. Excellent Resistance against the Following Environments
Corrosion
Mechanical vibration
Thermal variations
U.V
Compressor oil
6. Durable, Beauty
Electrostatic spraying when leaving the factory
Standard color, beautiful appearance
Product Parameters

Product Categories and Applications
Upipe dedicates to the sustainable, efficient and energy efficiency fluid transportation system
Company Profile
HangZhou JIEU FLUID TECHNOLOGYCO., LTD. is a manufacturing company specialized in aluminum pipe, pipe fitting and industrial aluminum profile, which integrated in R&D, production, sales and installation. The group locates at economic and technological development zone of HangZhou, ZheJiang , with a floor space of 200 mu and total investment of 180 million yuan. With 5 aluminum alloy tube extrusion production lines, 3 deep processing production line for finished products, and 2 production lines for industrial aluminum profile, the annual production capacity can be 3,000 tons of aluminum alloy pipe and 8,000 tons of industrial aluminum profile. It has become the large-scale aluminum alloy manufacturer with first-class technical equipment as it has the state-of-the-art production and inspection equipment, including mold center, inspection center, R&D and other equipment imported from Germany, South Korea and Japan.
The company engages in the innovation and deep processing of non-ferrous materials and has launched high intensity aluminum alloy pipe, stainless-steel pipe, copper-aluminum composite pipe, aluminum pipe with internal thread, high-frequency welding of aluminum alloy collector pipe and pipe fittings, satisfying the demands of customers across the world with more diversified and better products.  
Exhibition
Certifications
After Sales Service
Ten-year quality guarantee
Our company will replace or repair the product free of charge for the quality problem within 10 years from the installation and acceptance of UPIPE series product.
The exclusion clause shall not cover the problem or damage caused by the following reasons, which will be included but not limited to the following:
1. The product or component has been out of the warranty period, except for the product with extended quality assurance service.
2. The product has not been installed according to our stipulation or exceeded the applicable scope stipulated by our company. The product fails to be operated according to our company's manual and requirements of pertinent installation and maintenance document or it has been applied in a working environment that is against our stipulation. The damage caused by improper installation, storage or operation (for example, the ambient temperature is too high, too low or in a corrosive environment or hit by external force and so on.)
3. The breakdown or damage caused by unauthorized installation, repair, modification or dismounting performed by our company's after-sales personnel or the designated service agent, except for the third-party after-sales service agency entrusted by the company.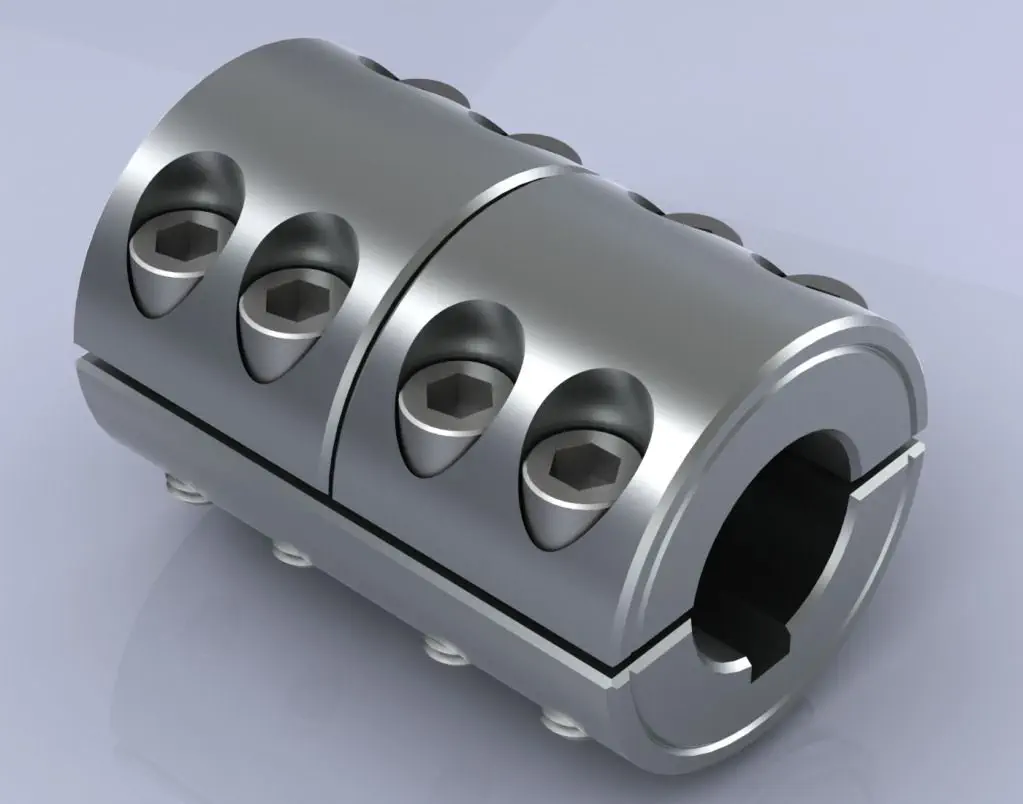 What Are the Maintenance Requirements for Rigid Couplings?
Rigid couplings are known for their simplicity and low maintenance requirements. Since they do not have moving parts or flexible elements, there are minimal wear and tear issues. However, some maintenance considerations for rigid couplings include:
1. Regular Inspection: It is essential to perform periodic inspections of the rigid couplings to check for any signs of wear, damage, or misalignment. Regular inspections can help identify potential issues early and prevent further problems.
2. Shaft Alignment: Proper shaft alignment is critical for rigid couplings. During installation or whenever maintenance work is performed on the connected machinery, the shaft alignment must be checked and adjusted if necessary. Misalignment can lead to premature coupling failure and cause additional stress on connected equipment.
3. Lubrication: Most rigid couplings do not require lubrication since they have no moving parts. However, some special designs or large-sized couplings may have set screws or other fasteners that require lubrication. It is essential to follow the manufacturer's guidelines regarding lubrication, if applicable.
4. Corrosion Protection: In corrosive environments, protecting the rigid couplings from corrosion is crucial. This can be achieved through the use of corrosion-resistant materials or coatings.
5. Periodic Re-tightening: If the rigid coupling uses set screws or other fasteners, periodic re-tightening may be necessary to maintain the integrity of the connection. This is particularly important in applications with high vibrations or heavy loads.
6. Temperature Considerations: Rigid couplings may experience thermal expansion or contraction, especially in high-temperature environments. It is essential to consider the thermal expansion characteristics of the coupling material and the connected shafts to ensure proper functioning under varying temperatures.
7. Professional Maintenance: In complex systems or critical applications, it is advisable to seek professional maintenance and alignment services. Expert technicians can ensure proper installation, alignment, and maintenance of rigid couplings, reducing the risk of unexpected failures.
Overall, rigid couplings are designed for reliability and longevity, and proper maintenance practices can further enhance their performance and lifespan. Regular inspections and alignment checks are vital for identifying and addressing potential issues before they escalate into costly problems.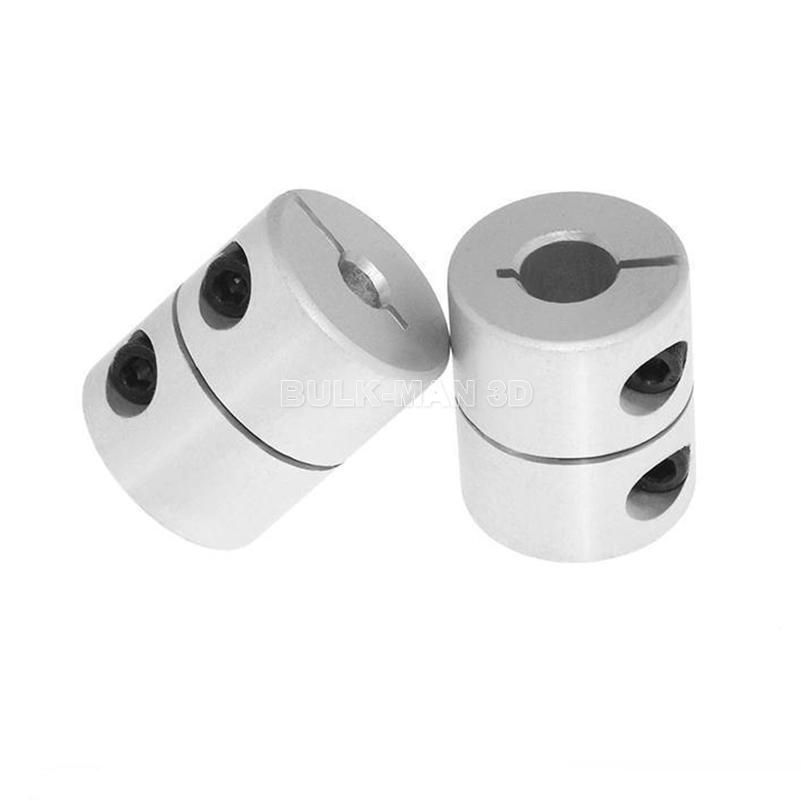 Factors to Consider When Choosing a Rigid Coupling for a Specific System
Choosing the right rigid coupling for a specific system is crucial to ensure proper functionality and reliable performance. Several factors should be considered when making this decision:
1. Shaft Size and Compatibility: The most fundamental factor is ensuring that the rigid coupling is compatible with the shaft sizes of the connected components. The coupling should have the appropriate bore size and keyway dimensions to fit securely onto the shafts.
2. Operating Torque: Consider the torque requirements of the application. The rigid coupling should have a torque rating that exceeds the maximum torque expected during operation to prevent failures and ensure safety.
3. Speed: Determine the rotational speed (RPM) of the connected shafts. Rigid couplings have maximum RPM limits, and the selected coupling should be capable of handling the system's operating speed.
4. Misalignment Tolerance: Assess the potential misalignment between the shafts. Rigid couplings provide no flexibility, so the system must have minimal misalignment to prevent excessive forces on the components.
5. Temperature and Environment: Consider the operating temperature range and the environment where the coupling will be used. Ensure the chosen material can withstand the temperature and any corrosive or harsh conditions present.
6. Space Limitations: Evaluate the available space for the coupling. Rigid couplings have a compact design, but ensure that there is enough clearance for installation and maintenance.
7. Backlash and Torsional Stiffness: In some precision systems, backlash must be minimized to maintain accurate positioning. Additionally, the torsional stiffness of the coupling can impact system response and stability.
8. Keyway or Keyless Design: Decide between a coupling with a keyway or a keyless design based on the specific application requirements and ease of installation.
9. Material Selection: Consider the material properties of the rigid coupling. Common materials include steel, stainless steel, and aluminum, each with its own advantages and limitations.
10. Maintenance: Determine the maintenance requirements of the coupling. Some couplings may need periodic lubrication or inspections, while others may be maintenance-free.
11. Cost: While cost should not be the sole consideration, it is essential to evaluate the cost-effectiveness of the coupling, taking into account its performance and longevity.
By carefully considering these factors, you can select the most suitable rigid coupling for your specific system, ensuring optimal performance, and longevity of your mechanical setup.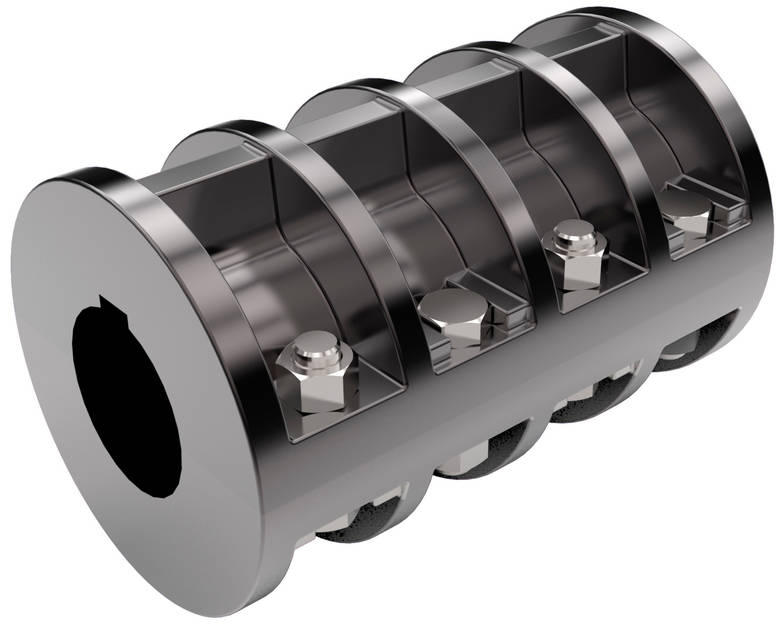 Materials Used in Manufacturing Rigid Couplings:
Rigid couplings are designed to provide a strong and durable connection between two shafts, and they are commonly made from a variety of materials to suit different applications. The choice of material depends on factors such as the application's environment, load capacity, and cost considerations. Some common materials used in manufacturing rigid couplings include:
1. Steel: Steel is one of the most widely used materials for rigid couplings. It offers excellent strength, durability, and resistance to wear. Steel couplings are suitable for a wide range of applications, including industrial machinery, automotive systems, and power transmission.
2. Stainless Steel: Stainless steel couplings are used in applications where corrosion resistance is crucial. They are well-suited for environments with high humidity, moisture, or exposure to chemicals. Stainless steel couplings are commonly used in food processing, pharmaceuticals, marine, and outdoor applications.
3. Aluminum: Aluminum couplings are known for their lightweight and corrosion-resistant properties. They are often used in applications where weight reduction is essential, such as aerospace and automotive industries.
4. Brass: Brass couplings offer good corrosion resistance and are commonly used in plumbing and water-related applications.
5. Cast Iron: Cast iron couplings provide high strength and durability, making them suitable for heavy-duty industrial applications and machinery.
6. Bronze: Bronze couplings are known for their excellent wear resistance and are often used in applications involving heavy loads and low speeds.
7. Plastics: Some rigid couplings are made from various plastics, such as nylon or Delrin. Plastic couplings are lightweight, non-conductive, and suitable for applications where electrical insulation is required.
It's essential to consider the specific requirements of the application, including factors like load capacity, operating environment, and cost, when choosing the appropriate material for a rigid coupling. The right material selection ensures that the coupling can withstand the forces and conditions it will encounter, resulting in a reliable and long-lasting connection between the shafts.



editor by CX 2023-11-06