Product Description
GR Motor Couplings Shaft Coupler Rigid Coupling
Description of GR Motor Couplings Shaft Coupler Rigid Coupling
>The material is aluminum alloy, and the middle bellows is made of stainless steel with excellent corrosion resistance
>Laser welding is used between bellows and shaft sleeve, with zero rotation clearance, suitable for CHINAMFG and reverse rotation
>Bellows structure can effectively compensate radial, angular and axial deviation
>Designed for servo motor stepper motor
>Fastening method of setscrew
Catalogue of GR Motor Couplings Shaft Coupler Rigid Coupling

model parameter

common bore diameter d1,d2

ΦD

L

LI

L2

L3

N

F

tightening screw torque
(N.M)

GR-16×27

4,5,6,6.35,7,8

16

27

7.5

2

8

13.5

3

0.7

GR-20×32

5,6,6.35,7,8,9,9.525,10,11,12

20

32

7.2

2.8

12

18

3.5

0.7

GR-22.5×34

5,6,6.35,7,8,9,9.525,10,11,12

22.5

34

8.05

2.8

12.3

20.2

4.5

1.7

GR-25×37

6,6.35,7,8,9,9.525,10,11,12

25

37

9.5

3

12

20.2

4.5

1.7

GR-32×42

8,9,10,11,12,12.7,14,15

32

42

8

4

18

27.2

5.5

4

GR-40×51

8,9,9.525,10,11,12,12.7,14,15,16,17,18,19,20

40

51

9.5

6

20

34.5

5.5

4

GR-55×57

10,11,12,12.7,14,15,16,17,18,19,20,22,24,25

55

57

9

6

27

51.9

6.25

7

GR-65×81

10,11,12,12.7,14,15,16,17,18,19,20,22,24,25,28,30,32,35,38

65

81

19.5

7

28

60.5

8.9

7
model parameter

Rated torque(N.m)

allowable eccentricity

(mm)

allowable deflection angle

(°)

allowable axial deviation

(mm)

maximum speed

(rpm)

static torsional stiffness

(N.M/rad)

weight

(g)

GR-16×27

0.8

0.1

2

-0.8

20000

150

8

GR-20×32

1.5

0.1

2

-1.2

18000

220

13

GR-22.5×34

1.8

0.15

2

-1.2

16000

300

22

GR-25×37

2

0.15

2

-1.2

15000

330

30

GR-32×42

2.5

0.2

2

-1.7

11000

490

53

GR-40×51

6.4

0.3

2

-1.7

10000

530

85

GR-55×57

12

0.3

2

-1.7

9000

860

170

GR-65×81

18

0.2

2

-1.8

4500

900

280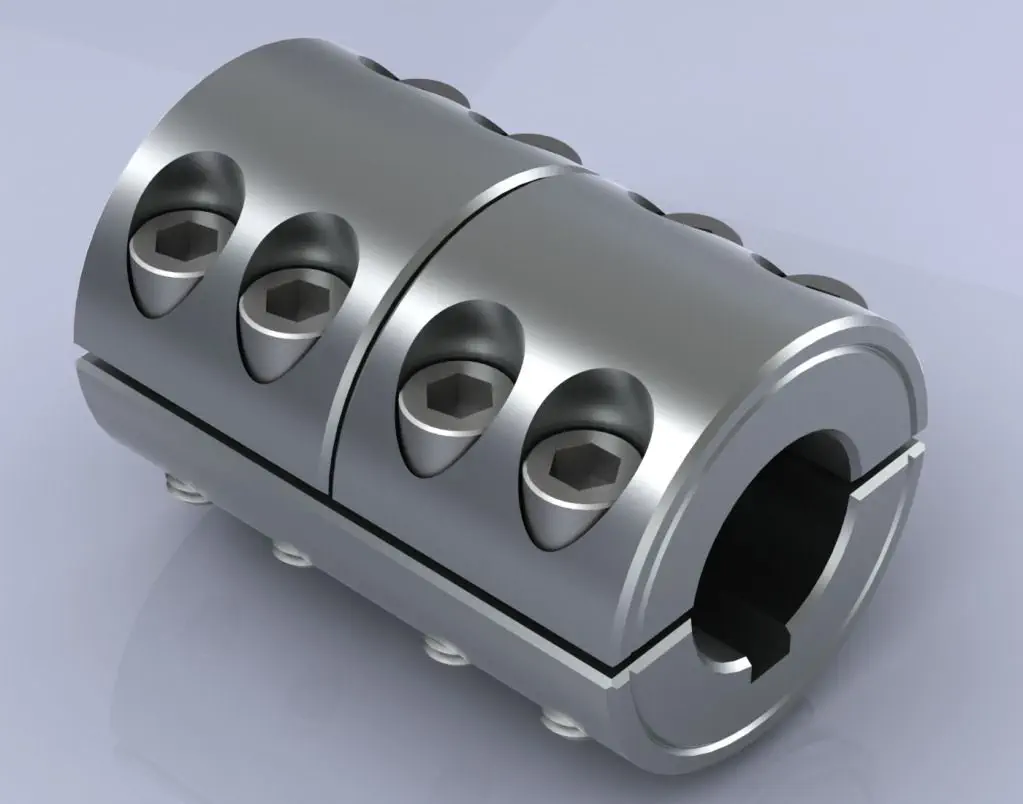 Industry Standards and Certifications for Rigid Shaft Couplings
Yes, there are industry standards and certifications that apply to rigid shaft couplings to ensure their quality, performance, and safety. Some of the common standards and certifications include:
ISO 14691: This International Organization for Standardization (ISO) standard specifies the requirements and dimensions for metallic straight-toothed rigid couplings with external clamping for shaft connections.
ANSI/AGMA 9002-C16: The American Gear Manufacturers Association (AGMA) standard covers measurement methods for evaluating the torsional stiffness of rigid couplings.
API 671: This American Petroleum Institute (API) standard applies to special-purpose couplings used in petroleum, chemical, and gas industry services, ensuring reliable operation and safety.
DNV GL: Rigid couplings used in marine and offshore applications may require certification from DNV GL, an international accredited registrar and classification society.
ATEX: For couplings used in explosive atmospheres, compliance with the ATEX directive is crucial to ensure that the coupling does not become a source of ignition.
When selecting a rigid shaft coupling, it is essential to look for products that comply with these relevant industry standards and certifications. Meeting these standards guarantees that the couplings have undergone rigorous testing and adhere to recognized quality and safety guidelines.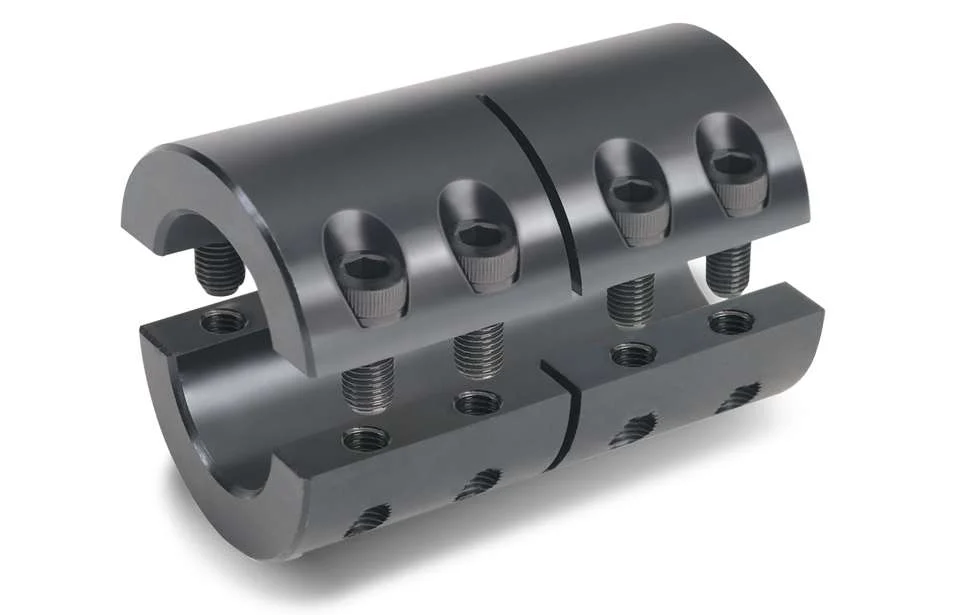 Are there any safety considerations when using rigid shaft couplings in critical applications?
Yes, when using rigid shaft couplings in critical applications, several safety considerations should be taken into account:
Torsional Stiffness: Rigid couplings have high torsional stiffness, which can lead to increased stresses and potential failures in the connected equipment. Proper analysis of torsional vibrations and stiffness compatibility with the connected components is crucial.
Shaft Alignment: Inaccurate shaft alignment can lead to additional loads on the coupling and connected machinery. Precision alignment is essential to prevent premature wear, increased stress, and potential breakdowns.
Overloading: Exceeding the rated torque capacity of the coupling can result in sudden failures and damage to machinery. It's essential to operate within the coupling's specified limits to ensure safe operation.
Maintenance: Regular inspection and maintenance are critical to identify signs of wear, fatigue, or misalignment. Neglecting maintenance can lead to unexpected failures and safety hazards.
Environmental Factors: Harsh environments, extreme temperatures, and corrosive substances can impact the integrity of rigid couplings. Choosing appropriate materials and protective measures can mitigate these effects.
For critical applications, it's recommended to work closely with experienced engineers, perform thorough risk assessments, and follow industry standards and best practices to ensure the safe and reliable use of rigid shaft couplings.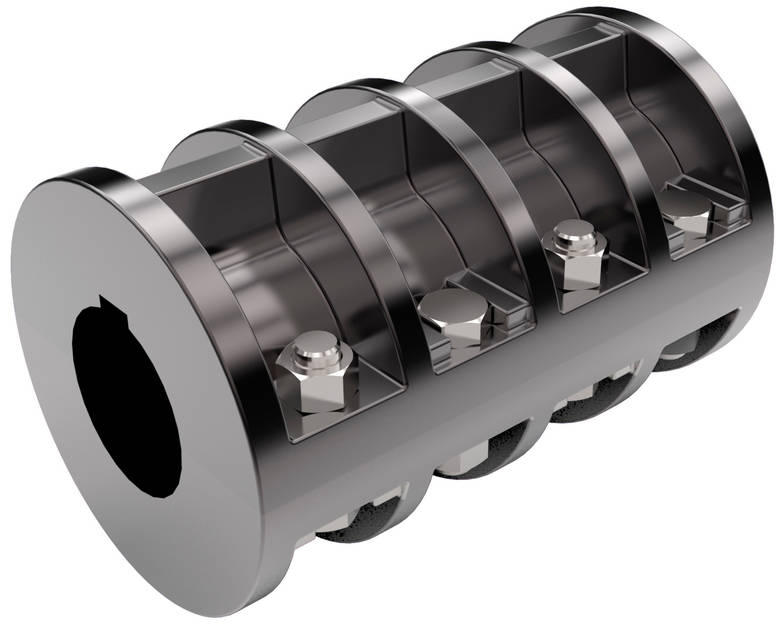 Are There Different Types of Rigid Shaft Couplings Available, and What Are Their Specific Applications?
Yes, there are different types of rigid shaft couplings available, each with its own specific applications. Some common types of rigid shaft couplings include:
Sleeve Couplings: Sleeve couplings are simple and cost-effective couplings that connect two shafts together using a solid sleeve or tube. They are commonly used in applications with moderate torque requirements and where shaft alignment can be maintained with high precision.
Clamp or Split Couplings: Clamp or split couplings consist of two halves that are clamped together around the shafts using screws or bolts. They are easy to install and suitable for applications where frequent maintenance or disassembly is required.
Flanged Couplings: Flanged couplings have flanges on both ends that are bolted together. They are used in applications where shafts need to be rigidly connected and where some degree of axial movement is expected.
Tapered Shaft Couplings: Tapered shaft couplings have tapered bores that fit tightly onto tapered shafts, creating a friction-based connection. They are often used in applications where precise alignment and torque transmission are essential.
Keyed Shaft Couplings: Keyed shaft couplings use a key and keyway arrangement to connect the shafts securely. They are commonly used in heavy-duty applications where high torque transmission is required.
The choice of rigid shaft coupling depends on the specific requirements of the application. Factors such as torque transmission, shaft size, alignment precision, ease of installation, and maintenance needs play a crucial role in selecting the appropriate coupling type.
Rigid shaft couplings are widely used in various industries, including manufacturing, power generation, robotics, aerospace, and automotive. They are often employed in applications such as pumps, compressors, conveyors, and high-precision machinery.
It is essential to consider the specific demands of the application and consult with coupling manufacturers or experts to determine the most suitable rigid coupling type for optimal performance and reliability.



editor by CX 2023-09-21